By Sharon Abercrombie
Just days before her death from pancreatic cancer on June 23,  a very fragile Nancy Norris was determined to get to her regular Santa Cruz, California  dance meeting—somehow. And she did.  With the help of her  son Davie and daughter Carolyn Roberts.
She arrived  in a wheelchair –  a brave gesture to say the least, given her weakened condition.
Nancy was about important work that night. "She had spent the day building up the energy," to make it happen, recalls Carolyn.
Nancy, 81,  wanted to let the circle know she was hanging up her dancing shoes after 30 years of  leading and mentoring. She wanted to let them know she was turning over her Garden Sanctuary meeting to "the younger 60- and 70-year-olds." said Carolyn.  She wanted to certify her last mentee. Terry Karima Forman, an area kindergarten teacher. She accomplished all three.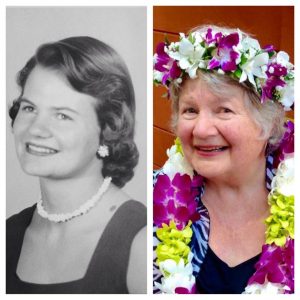 During the meeting, Karima lead her beloved teacher's work-in-progress dance, a call and response chant "Infinite Waters that Flow Through It All."
Jilani Esterly,  a member of the Santa Cruz dance team, described Nancy's demeanor  that night as "as soft spoken, yet completely present, peaceful and good humored."
Karima said she will remember her beloved friend and teacher as "the unconditionally loving mother, someone who greeted everyone as family."
And this writer, a 1997 mentee certified in Oakland, CA, has similar memories. I recall the hugs Nancy gave to everyone who came to our Isis Oasis California Quarterly weekends—newcomers and veteran dancers alike.  From Friday night until Sunday noon,  she functioned as a quiet, non-stop energetic presence, leading dances, teaching open tuned guitar, participating in feedback sessions for new dancers, and meeting with her mentees. She was always giving to us. Saturday afternoon nap times were a rarity.
Andrew Joselson, a veteran dance musician, from Santa Cruz, views her as the archetypal nurturer., as well. "Nancy, he wrote, "conjures up the image of Johannes Vermeer's painting, 'The Milkmaid.'"  But Joselson's take on the portrait shows a guitar strap supporting the huge milk jug.
Nancy Norris' vicious illness first invaded her life in January 2016. She had spent the previous year in seemingly good health, immersed in dance and family activities. At one point, she and Carolyn had embarked upon a major road trip  to the Southwest, for the latter's Masonic  work. The two made an overnight stop in Silver City, Mexico, to visit with long-time dance friend Darvesha MacDonald and her partner, Ishan. The couple lives  near the Southwest Sufi Community's retreat land there.  "Nancy said it had always been her dream to visit us, and she did it," noted Darvesha.
Up until two weeks before her death, "she was still picking up the guitar," said Karima.  When the Hospice caregivers asked if she wanted any music, Nancy declined, replying "I have my own orchestra."–the guitarists, drummers, keyboardists and harmonium players who accompanied  her dance meeting through the years.
There were two goodbye ceremonies held in Nancy's honor. The first, a vigil, took place in the family home. Richard McMurtry, editor of the Desert Flowers email list serve, and one of Nancy's mentees was there. He recalls the visit with heartbreaking poignancy.
"She was lying in her room draped in purple and turquoise –decked with rose petals. Her body had the look of someone who has passed and gone beyond.  On a bedside table sat her "Nancy Norris 2017 calendar" with photos of both her and her beloved family members. On a bedside table was the wall hanging version of the Lord's Prayer in Aramaic from the 1980s."
Then on the afternoon of July 24, over 100 friends and family gathered at Henry Cowell State Park, in nearby Felton, California, to share memories and dance among the redwoods. The circle participated in some of her favorite Dances of Universal Peace including "Ubi Caritas," " Kuake, Leno Leno"  "May the Long time Sun shine upon you," and "The Aramaic Lord's Prayer."
Before the celebration of life event, Nancy's mentor and long time friend, Dr. Neil Douglas-Klotz , sent a tribute from his home in Edinburgh, Scotland. Since the mid-1980s,  Nancy had been a supportive ground-floor presence for him, encouraging the founding co-director of the  Dances of Universal Peace Network, as he brought through the beginnings of his Aramaic Jesus work –The Lord's Prayer and The Beatitudes. Said Neil: "Nancy was a loving soul with a huge heart and a beautiful musician and dance leader.  She worked with me as a mureed and was a mainstay a the early Lama Dance Camp, as well as the California Quarterly Retreats, which at one point, replaced the Saturday Advanced Class started by Murshid Samuel Lewis."
After Neil left the Bay Area in 1993, Nancy, along with Darvesha McDonald of San Francisco continued the quarterlies, seeing them through the transition to their current less frequent gatherings. Violetta Reiser has remained the registrar, to this day.
For many years during the Christmas and Easter seasons,  Nancy opened her home to special "Aramaic Lord's Prayer" celebrations and potlucks in her spacious living room. Violetta and I were privileged to guitar for many of these holiday events
In Vio's words, "I am going to miss her terribly and cannot fathom never see her again."Vio first met Nancy in June of 1984, when she was fresh off the boat from her native Croatia. Awarded a scholarship to the Mendocino Sufi Camp, Vio immersed herself in everything. After a 20-minute open-tuned guitar lesson with another musician, "I was hooked." She became friends with Nancy at that camp, too  and recalls  the two of them sitting on the steps of the main hall, "me with her guitar,  trying to play notes while  she was patiently saying, zero two,four zero, five. She was teaching me the Kalama Dance."
Nancy Norris did not discover the Dances of Universal Peace until she was in her late 40s, but she made up for lost time. Richard McMurtry writes that she had been taking a Course in Miracles when she was moved to ask "How can I deepen in the experience of what we've been talking about?"  Someone suggested Sufi dancing. This individual "also saw her clearly enough to suggest that she became a dance leader.  Nancy replied that she was too shy to imagine becoming a leader. But this friend believed in her in such a way as to teach her open tuning on the guitar."  Four years later, she had become a Dance leader. Her confidence in playing guitar soared during those times.
During the past decade or so, Nancy's confidence grew in other ways as well. On Saturday nights, at the quarterlies, she began what I can only describe as extemporaneous zikrs.  Confessing that she had no idea what would happen, she would simply begin with a note, then a melody she would pull from the ethers, accompanied by a sacred phrase. Within 30 minutes, our circle would be singing in four-part harmony and doing the zikr movements she taught us.
On a final note: Supplying a bit of biographical information about her mom, Carolyn adds that Nancy loved the Peace Through the Arts Camp in the UK, the Lama Dance camp in New Mexico, The California Quarterly and the South Bay Sufi Camp, to mention a few.  A 1989 trip to the Soviet Union "was one of the most moving experiences of her life."
Nancy Norris was born in San Francisco in 1935 and lived most of her early years in Sacramento and Oroville.  She loved swimming in the Feather River and was a regular at Gold Lake Y-camp during the summer. It was where she learned numerous campfire songs. As a teen she studied piano and was active in Job's Daughters and was Honored Queen for Bethel 50. She studied music and French in  college. Midway through her studies  she married John Norris, and when he was drafted, the couple moved to Maryland.  While there, without a degree or credential, she was asked to teach fourth and fifth grade. After returning to California she completed her studies in education from Mills College in Oakland.
She is survived by sons Davie and Ben, daughter Carolyn, grandchildren Leila, Jasmine, Anisa, Christie and Eddie.