Individual book pages contain links to purchase via various worldwide Amazon sites (commissions earned for the Abwoon Network).

We also encourage you to support your local bookstore, or purchase through internet sites like IndieBound or Bookshop, both of which support independent bookstores and carry Neil's books.
The Aramaic Words and Spirituality of Jesus
Available now worldwide
With a foreword by Matthew Fox
Join our mailing list to receive updates on the launch and related webinars.
"Revelations of the Aramaic Jesus returns us to the original Aramaic of Jesus's words, where the breath, the body, and the soul are part of a living wholeness in which nature and the divine are not separate."
–Llewellyn Vaughan-Lee, author of Prayer of the Heart in Christian and Sufi Mysticism.

 The Hidden Gospel is not buried in the sands, not locked in a secret library, not being channeled by a new "messiah." The Hidden Gospel is in plain sight. We fine it in Jesus' familiar words newly translated from Aramaic, the language he actually spoke.
The key Aramaic words and ideas found in  the canonical Gospel, plus a reverse glossary from King James English to its Aramaic equivalent. Body prayer contemplations throughout.
"Insightful, penetrating, dazzling."—Leonard Shlain
Best Spiritual Book of 2003: Spirituality and Health Magazine
The ancient form of  creation meditation that unites the three religions of the Middle East. An anthology of Jewish, Christian and Islamic creation mysticism with new translations and body prayer meditations throughout.
"A brilliant scholar with heart whose words have the power to reconnect us to our sacred source." —Joan Borysenko
By the time you finish this book, you are ready to join body, heart, mind and spirit into a healing wholeness—indeed the wholeness of Creation.
–Rabbi Arthur Waskow, author of God Wrestling.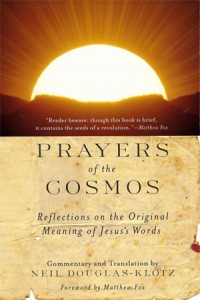 The book that launched Neil's work: presents the Lord's Prayer and Beatitudes in new, multi-layered, interpretive translations.
"Here we find a Lord's Prayer and Beatitudes that call even the most agnostic of ecofeminists and deep ecologists to reverence–and to a glad reconnection with the forgotten roots of our shared culture. Breathe a sigh of relief as you open Prayers of the Cosmos! It is high time we reclaimed the ecstatic love of creation that is at the heart of Jesus' mission and message." –Joanna Macy
Judas Thomas Mysteries Book One
A.K.A. Chisti (Neil Douglas-Klotz)

"gripping…mesmerizingly real…" –Kirkus Reviews
A novel set in the world of the Aramaic Jesus and his contemporaries. Renegade scribes, revolutionary cells, temple spies, oppressive tyrants, and visionary prophets and priestesses collide in this historical mystery novel of the volatile first century in the Middle East.
In Blessings of the Cosmos, published in 2006, Neil investigates Jesus' best-loved benedictions, including: invocations of light, joy, peace, and faith in the Beatitudes in Luke, and Jesus' last messages to the disciples, including the "great commandment" on love, the "many mansions" teaching, and the blessing of "greater works."
Ebook from Sounds True.
Native Middle Eastern and Sufi Paths and Practice

The Life Journey of Samuel L. Lewis

"Takes us on the inner and outer journey of this remarkable man, who left us with the gift of the Dances of Universal Peace, and the living grace of a soul who embraced both love and pain in service to God." –Llewellyn Vaughn-Lee
An autobiography selected from letters, papers, diaries and recordings, edited and with notes by Neil Douglas-Klotz. Completely revised with new material from Samuel Lewis' writings on spiritual activism, plus the real origin of the Dances of Universal Peace.
Paperback, ebook.

"A book of subtle messages that will challenge and inspire any serious seeker, regardless of ethnic or religious background." –Muneera Haeri
"Thanks to this saavy presentation of his writings, Moineddin's vision can now light the way for many more seekers." –W.A. Mathieu
Sufi  and interspiritual writings of Moineddin Carl Jablonski (1942-2001), the spiritual successor of Samuel L. Lewis.
Paperback and also on Kindle ebook.
New Editions of the Essential Writings of Kahlil Gibran