Seven years ago Neil Douglas-Klotz launched his first Aramaic Interspiritual Leadership Program.  AILP was designed for dance leaders, therapists, ministers, and teachers who wanted to deeply immerse themselves in the insights, teachings and dances from Neil's Native Middle Eastern Tradition,  Aramaic and Genesis Meditations work.
Today over 150  individuals from the U.S., Europe, and South America have completed the three and a half year AILP trainings held in Ohio, the UK and Germany.  So what have they learned and how are they sharing this work? We'll begin finding out with this issue in a brand new blog at Abwoon Network (abwoon.com) from entitled "Stories from the Circle." It will recount the experiences, not only of AILP graduates, but hopefully, our many other old-timers, as well.
Ellen Bush, Eileen Taj  Pappalardo, and Sharon Nurjehan Abercrombie,  editor for this new dance experience blog, are graduates of AILP One. The following account is our collective memory of what it was like to conduct three ten-minute introductory "prayer services" using the first line of the Aramaic Lord's Prayer, "Abwoon d'bwashmaya,"during a weekend retreat at River's Edge in Cleveland, Ohio. River's Edge is a Catholic environmental and wellness center operated by the Sisters of St. Joseph.
We had been tapped to serve as the "opening act" for Brian Swimme, renowned mathematical cosmologist. Brian is a protégé of ecozoic theologian, Fr. Thomas Berry, (1914-2009) author of "The Great Work." In 1992, Brian and his beloved mentor co-authored  "The Universe Story" (see his website at: www.journeyoftheuniverse.org)
A 2012 northern California Emmy Award winner for his DVD documentary, "The Journey of the Universe," Brian serves on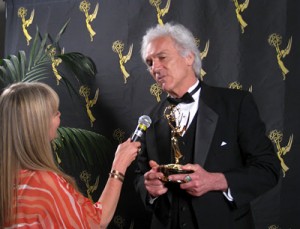 the faculty at the California Institute of Integral Studies in San Francisco. He taught Ellen and me when we were both graduate students in Matthew Fox's Creation Spirituality Program at Holy Names University in Oakland during the early 1990's. Neil was one of our teachers there, too, at the same time!
So for starters, this awesome opportunity seemed to be one of those "coming full-circle" type of  adventures. We would be using what we had learned and had built upon from each of them. We would be scooping into the depths of Neil's spiritual work to illuminate Brian's scientific cosmological teachings.
Our assignment that weekend of June 29, 2012, was to set the tone for 180 retreatants, bringing spirituality and science together back to,  "the first primordial flaring forth of the Universe," in the words of Brian and Thomas.
And as Neil, hearkening back to Yeshua's prayer, would say,  "Oh mother-father-birther of the cosmos, you create all that moves in light…"your Name shines everywhere."
We had three, separate,  ten-minute segments to accomplish this, and carry the group forward.  Initially, this was a pretty scary proposition for us  'unknowns,'–  providing the opening act for a brilliant, 'rockstar' cosmologist.
As Ellen recalls, we "needed to create some kind of container space for 'Abwoon' to live."  And it needed to happen quickly within a vast, crowded room full of people, most of whom had never experienced the Dances of Universal Peace before. Or knew anything about the Aramaic language for that matter.
We considered the daunting prospect of getting the group into ten or 12 concentric dance circles amidst the muddle of chairs.  Given our time frame, though, furniture moving was simply not an option. We would have to keep this project very simple. We therefore decided to  embark upon what a California dance friend, and fellow AILP student,  Richard McMurtry, refers to as "pew dancing" – Simply standing, and moving back and forth in place.
So ultimately, we decided to present an introductory, seated guided meditation on  the opening Friday night session that would set the stage for Brian's talks.  I led off, drawing upon Saadi's powerful "caravan" meditation. This is the one where he has us envisioning being part of a camel caravan, falling in line behind the beloved ancestors who have gone before us in wisdom, and traveling back to the beginning of Creation.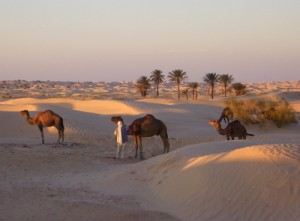 We embarked from a Middle Eastern desert, our camels' favorite environment, then moved  magically to a palm-tree lined beach.  Our trek took us into a mountainous landscape of sparkling snow, followed with a quick side jaunt to a North Carolina meadow filled with spring flowers, bees, butterflies and flitting birds. As our camels prepared to take off into space, we passed a plain filled with grazing dinosaurs.  Then came the floating outwards into the Cosmos, past our sun. our moon, and distant galaxies, until we reached the Original Source.
With Taj's frame drum, and my open tuned guitar, we lead a breath practice, intoning the sacred phrase, 'ABWOON.' We explained the word, and introduced the chant.
The next day, we resumed the chant, this time with Ellen leading another breath practice. On morning three, Taj reviewed the original meditation, with her frame drum calling up  — "the heartbeat of the Universe."
We concluded by having Ellen teach the Prayer movements in place. Within minutes, 180 individuals were dancing Abwoon, "totally free of any self consciousness,"  said Taj.
It had all come together.  In looking back Taj observed, that "We took them into that deep place to find the central harmony by chanting the separate sounds in the Aramaic word, 'Abwoon.' This is what  united every person in the room."
Everyone seemed captivated, and moved easily into each phase of our process, without resistance, she added.
Said Ellen: "We carved out the Aramaic words and moved into vibration of Creation. We were not just talking about cosmology, here. We were able to set the tone like a spoken prayer could never have done." Yes.
Our featured speaker, Brian Swimme, was there with us, through every breath, intoning, singing and movement. "I felt it in his body language," said Ellen. Which included a twinkle in his eye, a broad smile, and at the conclusion of each session, a fervent 'thank you.
Meanwhile, one sister from the River's Edge staff marveled to us 'unknowns' that we had provided a whole new experience she had never dreamt could happen. "I've never seen anything like this," she said. And she was smiling, too. By then, so were we.
(For further information, or to share a report, please contact the blog editor, Sharon Nur Jehan Abercrombie at Nurjehan3@att.net.)