(This is the fourth in an ongoing series of stories featuring people worldwide who are sharing Neil Douglas-Klotz's Aramaic Jesus and Desert Wisdom-related work. Our newest profile spotlights Murshida Sophia Gita Onnen, a long-time dance leader and founder of the German network for the Dances.  Editor's note: If you are offering Neil's work as part of your dance outreach, please contact Sharon at Nurjehan3@att.net.  We'd love to feature your story in this space.)
It was 1989 and Sophia Gita Onnen didn't know what had just happened.  She had traveled to Switzerland to participate in a Dances of Universal Peace (DUP) retreat with Neil Douglas-Klotz and Kamas A Miller.   This was her first DUP experience.   Just a few short hours after arriving, Sophia found herself in a dance circle chanting the Aramaic words of Jesus for the first time in her life.
"And without knowing anything about any of this," she recalls,   "I was touched to the
depths of my being by the sound, the vibration, breathing, the singing and the dancing."
Sophia knew instinctively that she had come home to her soul – a common experience for individuals who dance and chant the words of Yeshua in his indigenous language for the first time. Without knowing the message behind the words, their vibration nevertheless tunes and refines the soul.
By the next year, 1990, Sophia had immersed herself in the Aramaic. Happily, like the countless other Aramaic newbies around te world, she also now had a visual "take-away," from dance retreats she could go to at any time for spiritual nourishment.
Neil's first book, Prayers of the Cosmos, the Aramaic renderings of The Lord's Prayer and the Beatitudes, had just been published. It quickly became her constant companion.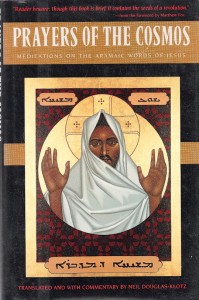 The book's cover – Robert Lentz's "Christ of the Desert," –worked as an excellent spiritual practice.  (Lentz's icon appeared on the original cover of the book.)   When Sophia would icon-gaze — stare with soft eyes into the luminous eyes of this dark-skinned Middle Eastern Yeshua — she recalls,  "I felt that the Aramaic Jesus on the book was giving me the message, 'you are blessed, just the way you are. ' From then onwards, no matter what her mood might be on any given day, "this was 'home' to me."
For past 20 years, Sophia has been bringing that same  "blessed home" energy to a total of more than 500 traumatized refugee women –women arriving in small groups to become part of her dance circles twice a year in Tuzla, Bosnia.
The women are victims of the 1992-1995 Bosnia-Herzegovina conflict. Since 1996, Sophia has combined her Gestalt therapy training with the Aramaic and Sufi Soulwork to bring healing to these hurting individuals.  Many of them lived through a massacre in Srbrenica, a town where their husbands and sons were shot to death and buried in mass graves; it was a place of horror, where their daughters were confined to rape camps. Incredibly, during those short three years, an estimated 50,000-60,000 women were held in rape camps by Bosnian Serb forces.
According to History.com, the Bosnian war is considered to be the worst act of genocide since the Nazi regime's   destruction of more than six million Jews. The ethnic genocidal massacre claimed the lives of 100,000 people, 80 percent of them Muslim.
Sophia started working with survivors after learning of their plight from her Swiss dance mureed Maria Muller.  Maria had been asked to bring the dances to Bosnia by the Swiss charity AMICA CH.  "Maria invited me to join her because she felt that my background as a Gestalt therapist would be helpful in working with these women."
When the two arrived, they discovered a group of women "traumatized and desperate.  They didn't want to live," said Sophia.  Ever so slowly and gently,  she and Maria offered up their dance-medicine, "breath by breath, step by step."
"As they were Muslims, we mostly used Arabic songs and dances."  Little by little, the healing began working its spiritual magic. The two women next introduced the Aramaic Prayer and the Beatitudes, again witnessing the healing power of Yeshua's teachings.
In Sophia's words, "The first Beatitude 'Alaha Ruhau,'—God is Breath/Spirit and the second, 'Healed are those in emotional turmoil, wandering…they shall be united inside in love — helped to offer them the encouragement to keep doing, to start all over again, breath by breath, step by step. It was this unconditional love and the compassion that they needed very much."
Sophia adds that the women's willingness to sing and dance in the original mother tongue of Jesus "was great for them.  To feel the oneness of body, heart and soul – to view Jesus as psychotherapist was a truly cosmic approach. It felt to them like coming home, to themselves, their bodies, to earth, to the here and now of their lives, joyful, in community."
The third phase of the dance retreats have involved introducing Neil's dances honoring the DivineMother/Father of the Cosmos. "Through them, the women's  horizons opened and widened to the concepts of living on a Sacred Earth and being sacred themselves."
As a result of these retreats,  there are now several dance meetings in Bosnia as well as trainings, lead by Sophia's students there.
Sophia's Bosnian work is just one part of her extensive involvement with the Aramaic dances. Since attending her first dance retreat in 1989, Sophia Gita Onnen has plunged into the Dances of Universal Peace wholeheartedly, even to the extent of abandoning her career.
"The dances got me deeply," she said.  She left her therapy practice in 1990 and traveled to Lama Foundation to be a part of Neil's retreats. Lama was the first of many she attended during the following year. She stayed with dance community members in New Mexico, California and Missouri. Between retreats and dance meetings, she began translating Prayers of the Cosmos into German (which was subsequently published by Knauer Verlag).
Back in Germany in 1991, Sophia resumed her therapy work only to give it up again. When the German edition of Neil's book came out, invitations began coming for her to teach the Aramaic. The calls would take her all over Germany, as well as Switzerland, Austria, the Czech Republic, and Russia. The rest is history.
She has never looked back.  And now, here is where her path has brought her: She has served as the director of the Ruhaniat European Summer School in Germany, as an initiator in the Dervish Healing Order, as a spiritual guide to many mureeds and as a dance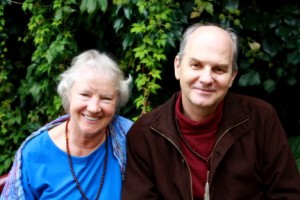 mentor.
"I have so much gratitude to Saadi for being my friend and guide for the past 26 years."
But there is a sense of déjà vu for Sophia, as she reads the daily news reporting on thousands of refugees from Iraq, Afghanistan, Syria, the Balkans and African who are entering Europe seeking new homes. "They are like the Bosnian women and children, arriving with simply their breath and the hope to be welcomed and to receive help for beginning new lives."
She reflects, "Life goes on and there is so much to do."