7 September 2016
Dear Friends,
I'm writing a personal letter to the Abwoon Network to ask your help in completing the project to restore the dargah (gravesite) of Murshid Samuel Lewis in New Mexico. Whatever you may or may not have read about this in past, I would request a few moments of your time to consider the following, some of which you may not have heard before.
As one of the first practicing inter-spiritual mystics of the 20th century, Murshid Samuel Lewis nurtured his own spiritual life with three simple things: retreat, pilgrimage and a deep, inner connection to his teachers. The three went together. Throughout his life, he travelled on retreat or pilgrimage to visit living teachers or absorb their living presence at a sacred site. While there, he received the inspirations that formed the basis of his life and work. Whether it was his study with Buddhist Zen teachers, with Swami Papa Ramdas or with Christian mystics and Sufis, he always felt that genuine spiritual work for peace resulted from living experience and vision rather than ideas and concepts. The Dances of Universal Peace and spiritual Walks—the culmination of his work—were sparked by a vision that he received at the dargah of the Sufi saint Selim Chishti in India. Shortly afterwards, when Murshid S.A.M. visited Ruth St Denis, his spiritual dance teacher, she confirmed the vision.
Likewise, the International Dances of Universal Peace Network, in the form we have it, resulted from a vision received by this person at the dargah of Murshid S.A.M. at Lama Foundation in New Mexico in October 1982. Along with this, at the same time, came the vision that led to the first Aramaic Dances for the Prayer of Jesus. Following this, I began to do the scholarly work that led to my first book, Prayers of the Cosmos.
This vision happened during a month-long pilgrimage led by Murshid Wali Ali Meyer, during which about twenty of us rebuilt Murshid S.A.M.'s dargah, which was falling into decay due to its harsh surroundings. The vision was confirmed by my own teacher, Murshid Moineddin, as well as by meeting my spiritual sister Murshida Tasnim Fernandez, with whom I began the Dance Network.
All of you reading this who are engaged in some way with the Dances or the Aramaic Jesus work will find that it is because of one or both of these visions, which resulted from pilgrimages to a dargah.
All things fall into decay eventually. Some things worth keeping need to be maintained and sometimes rebuilt, with effort and sacrifice. Sacred sites around the world have been made sacred by combining earth energies with the group devotion of a community of people who sacrificed to keep a particular portal between the worlds open for those coming along later.
Of course, anyone can receive a vision anywhere, under any circumstances. But it is no coincidence that more of these occur at sacred sites, which are kept alive by a field of group devotion, effort and sacrifice.
Some years ago, we again reached the point where Murshid's dargah needed to be completely rebuilt. When I visited the dargah in August 2014, it was clear—from comparing its present state with what we had designed and rebuilt in 1982—that the site had already substantially eroded into the hillside. This was no one's fault. It resulted from a combination of factors. First, the 1996 fire at Lama changed the drainage and ecology of the hillside. Second, the changing demographics of our Dance and Sufi commuities: we got older and less capable of the heavy lifting we did 34 years ago during the rebuild or by which we maintained the dargah in the ten years following during our annual summer Dance camps. Third, the changing demographics of the Lama community in the last decade: during this time the average time a permanent resident remained in the community shortened dramatically from ten years to five to its current two. With such a quick turnover, more immediate survival needs in a wilderness community take priority.
While some people like the image of our dargah gradually fading away, to me this attitude reflects laziness rather than an enlightened attitude to impermanence. Valuable things are worth reusing and reviving, rather than simply throwing away—an attitude our superficially impermanent consumer society promotes.
An additional factor: if you burrow into the internet news, you will see that Sufi sacred sites around the world are being threatened and destroyed by extremists of all sorts–in Africa, East Asia and the Middle East. These include the very dargahs that Murshid SAM himself visited. We may well be in a situation where sacred lineage portals like ours can only survive in the West for the moment, much as Tibetan Buddhism is surviving in exile from its historical homeland.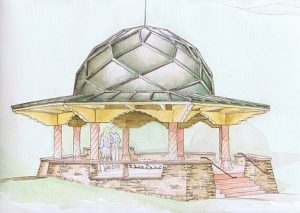 We are now in the final phase of the dargah restoration, which will be complete by summer 2017.
For the final push we need 300 people who are willing to donate a total of $1000 over the next three years (2016-2018). That's about $333 a year, less than what most of us spend a year on workshops, retreats and camps.
This one is ours to do. It cannot wait for another generation. One can come up with all sorts of excuses why it can't be done, or shouldn't be done, or could be done differently. Having studied the budget and plans in depth, as well as the whole history of the dargah's maintenance and the Sufi Ruhaniat's communications around this with Lama Foundation (which began more than 20 years ago in Pir Moineddin's time), I'm convinced that this project is being done in the most cost-efficient, maintainable, ecological and beautiful way possible, in consideration of the long-term benefit to both the human and natural communities involved.
After our own Dance circles are forgotten, the dargah will be there, hopefully to provide visionary inspiration for a whole new generation of Dancers, who may need to revolutionize what we're doing in the same way that the Dance Network did ten years after Murshid S.A.M.'s passing. At that point, Murshida Tasnim and I began the Dance Network with $500, and look where we are today.
Please join me in making the pledge mentioned above and manifesting this. Here is the link:
http://www.ruhaniat.org/index.php/work/dargah-project
If you can give more, give more. If you can give less, do that. Every person who puts in some energy, and makes some sacrifice in the name of devotion, helps clear the channel for others. We can talk about "paying it forward" as much as we want, but this is one practical thing we can actually do to help sustain the future of the Dances—and the living interspiritual work that Murshid SAM began—for coming generations. Don't miss the opportunity to say you helped make this happen.
Love and blessings,
Neil Douglas-Klotz
Fife, Scotland